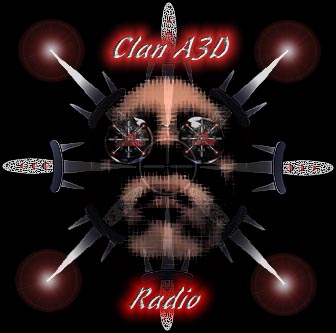 Welcome to the Clan A3D Radioshow!
---
** WARNING **
---
Material contained within this website is Rated R!!
. . . .
By making the decision to select any of the following links
you automatically agree to partake of the information contained
within the links. All copyrights are reserved by their respective authors
and all programs are provided for entertainment purposes only!
---
---
Show Date
DownLoad and Play
Live Streaming Radio Show
03/23/1999
Show19
Ozzy Fest & A Special Guest!
Show Date
DownLoad and Play
Live Streaming Guest Radio Host
01/17/1999
Show00
A3D Underground Radio By Malleus
Show Date
DownLoad and Play
Live Streaming A3D Music
01/24/1999
Song01
Happy Ron singing Fucking Mouser
Show Date
DownLoad and Play
Live Streaming A3D Video
01/24/1999
Video01
Here's Steveo in action at a Lan Party
Visitors since Jan 2003
---